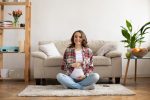 Pregnancy is a magical phase in every woman's life that is filled with a number of mixed emotions and feelings. This momentous time is filled with a medley of anticipation, excitement, nerves, and immense love.  From joy to excitement, nervousness to paranoia, an expectant mum will go through all these emotions at once.
Pregnancy is all about planning and purchasing. Pregnancy is especially difficult for first-time moms-to-be since they may be clueless about what they require and what is to be purchased. With the changes in your life that pregnancy brings, do not lose sight of the little things that could make your pregnancy a tad bit easier.
A woman who is pregnant or planning to be pregnant needs natural essentials for relaxation, stress, indigestion, leg cramps, aches, and comfy maternity clothing. Mamas-to-be at the early stages of motherhood need several tried-and-true products to help them thrive during this season of life. 
Before planning pregnancy purchases, it is important to take a look at all the available pregnancy products and how the products would be useful. This helps in making a purchase decision. So, here is a list of all the little yet most recommended products that will make this beautiful phase a lot more beautiful.
All of the products mentioned in the list help with managing pregnancy symptoms and are natural and healthier alternatives to conventional options. This list of many essential items makes the journey of bringing new life into the world a bit easier, thus making pregnancy comfortable and enjoyable.
Massage oils and lotions
The hormonal changes during pregnancy do quite a number on the skin. Dry, itchy skin is one symptom noticed during these months and can occur right from the first trimester. As the pregnancy progresses, the strain on the internal systems increases, and blood circulation to the hands and feet decreases. 
A good go-to body oil, moisturizer, or lotion is the key to combating dryness. Massage oil can be particularly beneficial, smoothing the skin and preventing stretch marks. The regular use of good massage oil, moisturizing cream, or lotion boosts blood circulation and combats skin issues like dry hands and dry feet, which are common during pregnancy.  These 100 per cent natural essential oils during pregnancy help support everything from digestion to headaches, sleep, emotions, and more. 
Pregnancy pillows
A maternity or pregnancy pillow is specially designed to support the growing body and changing curves of the body throughout the pregnancy. They are soft, fresh, and breathable and provide great support for various sleeping positions. In the later stages of pregnancy when sleeping becomes tough, these pillows make sleeping more comfortable and promote better blood circulation.
A pregnancy pillow will provide support and comfort to backaches and leg cramps and ensure proper rest, relieving the aches and pain. A maternity pillow will also be useful even after the baby's birth as it will help to put the baby in the right position during breastfeeding.
Multivitamins
For a healthy pregnancy folic acid and vitamin D, are must-haves as they are essential for the baby's development. Multivitamin that includes these two nutrients ensures daily dosage of the nutrients that foods fall short of. As part of a healthy diet, it is recommended that women should intake multivitamins with 400 micrograms of folic acid every day, particularly before pregnancy and during early pregnancy.
Ideally,  pregnancy multivitamins are prescribed by a gynaecologist as soon as pregnancy is confirmed. Avoid taking normal multivitamin tablets that are not specifically meant for pregnancy as they may contain ingredients harmful to the growing baby. Multivitamins provide all the vitamins and minerals the body needs for a baby's healthy brain and eye development.
Maternity belt
Researchers estimate that 8 out of 10 pregnant women suffer from back pain, and this prevalence increases up to 75 per cent by the third trimester. Many pregnant women do experience a lot of pain and discomfort in their pelvic region and both sides of the lower back.
Maternity belts help support the belly and give relief to overstrained back and hips. They apply evenly distributed mild pressure on your belly for enhanced body support. They promote blood circulation and reduce bladder pressure. These thick elastic straps that go under the stomach for extra support, can help alleviate pregnancy-related backache.
Maternity bras 
Pregnant women will also need to do some bra shopping as the breasts typically increase a cup size or so during pregnancy. Purchase maternity or nursing bras of some good quality that are well-fitted and comfortable. Specialized shops can help with the selection process to determine the right sizing for comfort and support.