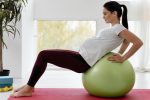 Staying active during pregnancy has a multitude of benefits for both mom and baby. Whether you're a dedicated yogi, an enthusiastic runner, or simply enjoy staying fit, having the right activewear can make a significant difference in your comfort and confidence. In this guide, we'll delve into the world of maternity activewear, exploring the best options to keep you stylish, supported, and ready to conquer your fitness routine while embracing the beautiful journey of pregnancy.
Top Maternity Activewear Picks: Maintaining an active lifestyle doesn't mean compromising on style or comfort. Here are some top maternity activewear options that cater to the needs of active moms-to-be:
Maternity Leggings: Invest in high-quality maternity leggings made from stretchy, breathable fabric. Look for those with a supportive belly band that can be folded down or pulled up over your baby bump. These versatile leggings provide a snug fit without constriction and are perfect for various workouts, from prenatal yoga to brisk walks.
Supportive Sports Bras: A well-fitting and supportive sports bra is essential for any active mom-to-be. Opt for bras with adjustable straps, wider bands, and moisture-wicking material to ensure comfort during low-impact exercises or even light jogging.
Active Maternity Tops: Choose maternity tops that offer both coverage and flexibility. Look for options with side ruching or gathering to accommodate your growing belly. Loose-fitting tanks or tees made from soft, breathable fabric are great for cardio workouts and strength training.
Maternity Workout Shorts: If you prefer shorts for your workouts, consider maternity shorts with an elastic waistband that sits comfortably below your bump. Look for moisture-wicking material to keep you cool and comfortable during your activities.
Tips for Selecting Maternity Activewear: Selecting the right maternity activewear is crucial to ensure your comfort and support. Here are some tips to keep in mind while shopping:
Prioritize Comfort: Choose activewear with stretchy, breathable fabrics that accommodate your changing body. Flat seams and tagless designs help prevent irritation.
Size Up: Don't hesitate to go up a size if needed. Proper fit is key to avoiding constriction and discomfort during movement.
Adjustable Features: Look for activewear with adjustable waistbands, straps, or closures to accommodate your changing body throughout the pregnancy.
Layering Options: Opt for pieces that can be layered for added versatility. A supportive tank paired with a loose-fitting tee allows for easy temperature regulation.
Workout Safely During Pregnancy: Staying active while pregnant requires special consideration. Here are some safety tips for maintaining a safe workout routine:
Consult Your Healthcare Provider: Always consult your healthcare provider before starting or continuing any exercise routine during pregnancy.
Stay Hydrated: Drink plenty of water before, during, and after your workouts to stay hydrated.
Modify Intensity: Adjust the intensity of your workouts as your pregnancy progresses. Listen to your body and avoid overexertion.
Focus on Balance: Incorporate exercises that enhance balance and stability, reducing the risk of falls.
Embracing an active lifestyle during pregnancy is a wonderful way to nurture your well-being and prepare for the journey ahead. The right maternity activewear can empower you to stay fit, comfortable, and stylish throughout this transformative time. By choosing supportive and adaptable activewear pieces, you'll be well-equipped to enjoy your workouts while celebrating the incredible experience of being an active mom-to-be.