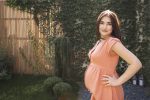 Pregnancy is a time of joy, anticipation, and profound changes – not only in your life but also in your wardrobe. As an expectant mother, it's essential to navigate this exciting journey with comfort and style. Maternity fashion has come a long way, offering a plethora of chic options for moms-to-be. In this blog, we'll delve into the essential wardrobe staples that every expectant mother should have in her closet. These must-have maternity clothes will not only keep you comfortable but also ensure you look fabulous throughout your pregnancy.
Must-Have Maternity Wardrobe Staples: Elevate your maternity fashion game with these essential wardrobe staples:
Maternity Jeans: Maternity jeans are a non-negotiable addition to your wardrobe. Look for pairs with stretchy panels or a comfortable belly band that provides support and adjusts to your growing belly.
Maternity Leggings: Versatile and cozy, maternity leggings are a pregnancy must-have. They offer gentle support to your belly and can be paired with tunics, dresses, or oversized sweaters. Opt for high-quality leggings with a stretchy waistband for maximum comfort.
Empire Waist Dresses: Empire waist dresses are a pregnant woman's best friend. They beautifully emphasize your baby bump while allowing the rest of the dress to flow gracefully. Invest in both casual and formal versions to suit various occasions.
Maternity Tops: Build your maternity wardrobe around tops, including basic tees, blouses, and tank tops. These versatile pieces can be mixed and matched with different bottoms, making them the foundation of your pregnancy style.
Comfortable Undergarments: Supportive maternity bras and panties are essential for comfort and proper support. As your body changes, invest in undergarments designed to adapt to your evolving bust and waistline.
Maxi Dresses: Maxi dresses are a pregnancy fashion staple. They offer both comfort and elegance, making them suitable for casual outings or special occasions. Look for styles with empire waists for a flattering fit.
Dressing for Comfort and Style: Stay comfortable and stylish throughout your pregnancy with these tips:
Invest in Quality: High-quality maternity clothes are worth the investment. They are designed to last throughout your pregnancy and can often be worn postpartum.
Embrace Stretchy Fabrics: Fabrics like jersey or spandex blends are your friends. They seamlessly adapt to your changing body, providing comfort and flexibility for everyday wear.
Layer with Confidence: Layering is a smart strategy for pregnancy fashion. Cardigans, kimonos, and lightweight jackets add both style and warmth to your outfits while allowing you to adapt to changing temperatures.
Maternity Fashion Dos and Don'ts: Avoid common maternity fashion mistakes by following these dos and don'ts:
Do Prioritize Comfort: Comfort is your number one consideration during pregnancy. Seek out clothing made from soft, breathable materials that can accommodate your growing belly.
Don't Neglect Your Style: Pregnancy is an excellent time to express your unique style. Look for maternity versions of your favorite styles or adapt your existing wardrobe to fit your changing body.
Do Highlight Your Bump: Embrace your beautiful baby bump by choosing clothing that accentuates it. Empire waist dresses and fitted styles can beautifully showcase your evolving silhouette.
Don't Forget Support: Supportive maternity bras and undergarments are vital for comfort and proper support. They can alleviate discomfort and back pain.
Expectant mothers can celebrate their pregnancy in style by embracing these essential maternity wardrobe staples and following maternity fashion dos and don'ts. With a collection of well-fitting maternity jeans, comfortable leggings, chic empire waist dresses, versatile tops, supportive undergarments, and elegant maxi dresses, you'll be prepared to navigate the incredible journey of pregnancy with grace and confidence. Remember that maternity fashion isn't just about looking good; it's about feeling comfortable, confident, and ready to embrace the magical experience of motherhood.