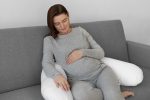 If you're pregnant and tired of uncomfortable hospital gowns, you're in luck. SillyBoom offers a range of amazing maternity tunic tops, t-shirts, leggings, and denim pants. These options are far superior to the standard hospital gown and offer comfort, style, and versatility.
One of the best options from SillyBoom is the maternity tunic top. This top is made with lightweight, breathable, and soft fabric that is perfect for pregnant women. It has a round neck design, and half sleeves, and is made with 95% cotton and 5% lycra, making it highly stretchable and providing great mobility in every possible direction. This top is not only comfortable but it's also made of great quality material, ensuring that it will last throughout your pregnancy.
Another great option from SillyBoom is their maternity sleepwear tunic. This tunic is designed to be worn before, during, and after your pregnancy and is proven to be the best maternity sleepwear ever. It is made of the softest material that provides the right amount of comfort in the belly area, allowing you to get a good night's sleep. This tunic top is a must-have for every pregnant woman's wardrobe.
In addition to their comfort and quality, these SillyBoom maternity tops are also stylish. The printed cotton tunic top is a perfect fit over your bump and is suitable for any stage of your pregnancy. It also features funny printed designs with seven different vivid and vibrant colours, ensuring that there's a top for every future mother to love. Whether you're cuddling your little one, working from home, or having a lazy Sunday, this top will keep you comfy and stylish all day long.
Washing these tops is also incredibly easy. They are hand washable or can be washed in a machine with cold water at low temperatures. Tumble dry low and remove promptly. Do not iron on print. The colours won't easily fade, ensuring that your top will remain vibrant for months to come.
Overall, SillyBoom's maternity tunic tops are a must-have for any pregnant woman. They offer comfort, style, and versatility, making them the perfect addition to any maternity wardrobe. These tops are perfect for sleeping, working, or lounging around the house, providing the right amount of comfort and mobility. If you're looking for the best maternity clothes available, look no further than SillyBoom. Their tops are high quality, comfortable, and stylish, ensuring that you'll look and feel great throughout your pregnancy.